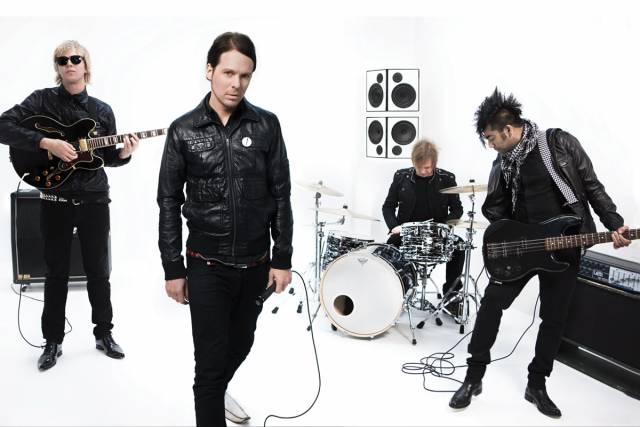 | | | | |
| --- | --- | --- | --- |
| | | | |
Välkommen till The Zoo's officiella site

The Zoo släppte sin debutskiva "We Can't Wait" 1 mars 2009. Första singeln "Stay Until The Morning" spelades på P3 i över två månader och Nöjesguiden kallade The Zoo i en recension av skivan för "nordens bästa powerpopband". Debutskivan har även fått höga betyg i annan media såsom Zero magazine och Groove och har spelats flitigt på lokal radio runt om i landet.

The Zoo består av Albin Johansson på sång och gitarr, David Eriksson på gitarr och orgel, Andreas Giri på bas och Hans "Haze" Sjölander på trummor.

Lyssna på The Zoo på Myspace.

Kontakta The Zoo

A&R Anders Korpi at Universal music publishing anders.korpi@umusic.com

Nyheter »

2009-10-15

Över 1000 sålda ex i Japan

The Zoo har nu sålt över 1000 exemplar av debutskivan We can't wait i Japan.

2009-10-17

"Stay Until The Morning" är med på samlingen "Powerpop Candy Vol.1".

Några ord från skivbolaget:
"V.A. "POWERPOP CANDY Vol.1 - The Very Best Of Powerpop, Pop-punk, and Electro-pop -" feat. 17 BEST pop'n rock artists from all over the world !!"
Check out the album HERE!

"Girls On MTV" musik video har nu visats på MTV Japan och Space Shower TV.

Musikvideo till "Stay Until The Morning" visas nu 1-2 gånger per dagpå MTV Japan and Space Shower TV.

2009-08-20

Bilder från Japan

Här är bilder från The Zoo's skivförsäljning i Japan. Uppladdat av Vecca Records:

TOWER RECORDS IKEBUKURO
TOWER RECORDS SHIBUYA
TOWER RECORDS KICHIJOJI
HMV SHIBUYA
HMV STORE SHIBUYA
HMV STORE IKEBUKURO

2009-08-19

Mer information finner du här.


2009-07-09

Ligistfilm, Jimmy Hansen, Jon Ohlsson och Kate Karlsson.
www.ligist.se
www.jimmyhansen.com

2009-08-01

Skivsläpp i Japan

The Zoo släpper sitt debut album "We can't wait" i Japan den 19 augusti på det japanska skivbolaget Vecca Records.

För er som kan japanska kan ni läsa om The Zoo här.

2009-05-19

Singeln "Girls on MTV" släpps 25 maj

On the 25th of May The Zoo will release their second single "Girls On MTV", taken from the debut album "We Can't Wait".

2009-05-18

The Zoo får skivkontrakt i Japan

The Zoo har skrivit på ett kontakt med japanska skivbolaget Vecca Records. "We Cant Wait" släpps i slutet av sommaren 2009.

2009-05-13

Videon till "Girls On MTV"är nu filmad. Videon är regisserad av The Zoo och John Ohlsson. Stort tack till Kate Karlsson för make up/hår, Jimmy Hansen och crew för studiotid och support och Ligistfilm för konsulting, tid, ljussättning och teknisk support.

2009-05-04

"We Cant Wait" får 4 av 5 i en recension i Rocky Magazine.

"Stay Until The Morning" har nu varit på nästan daglig rotation på P3.
thezoo.se © 2009 • manhoover.com • myspace.com/thezooworld